1、Registration Certificate No:国械注准20173770632
2、Specification and model:See table
3、Product performance, structure and composition
The central venous catheter of this product is made of polyurethane, and the models are divided into three categories: single cavity, double cavity and three cavity. According to the packaging category, it can be divided into single package (d), simple package (J) and all package (q); All components in the product do not contain drugs; The product is sterilized with ethylene oxide and is limited to one-time use. Basic product configuration: disposable central venous catheter, auxiliary instruments: disposable guide wire, puncture needle, disposable sterile syringe, disposable sterile injection needle, surgical blade, fixing clip, blue needle tube, accessories and accessories: Y-connector, expansion tube, infusion connector, disinfection brush, disposable sterile rubber surgical gloves Disposable auxiliary material towel, medical film surgical towel, gauze block, suture needle with thread, wound patch, medical dressing, blister medicine box and blister tray.
4、Product scope of application
It is suitable for patients who need central venous indwelling catheter. Patients were injected with drugs, infusion and intravenous nutrition.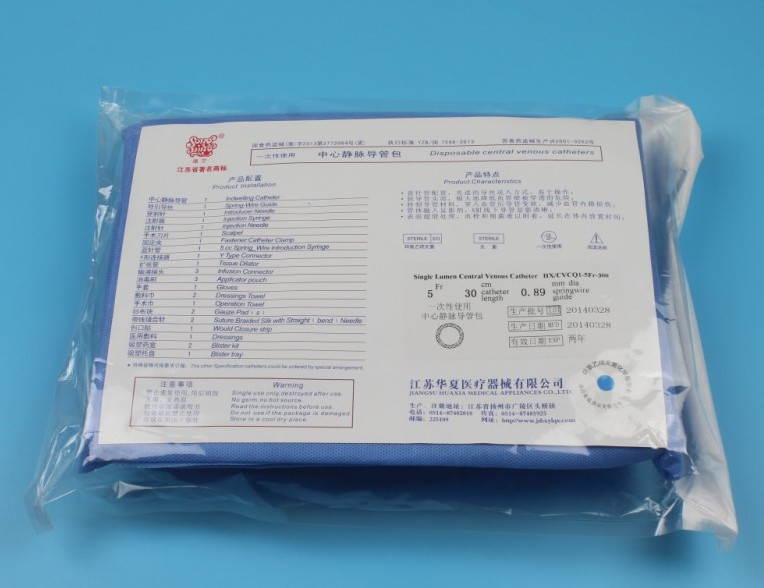 具体规格型号详见下表:

规格型号编号

包装类型

导管腔数

导管号数
(Fr)

导管外径Dmm

导管有效长度(mm)

HX/CVCD(J/Q)1-8Fr-130

CVCD(J、Q)

1

8 Fr

2.70

130

HX/CVCD(J/Q)1-8Fr-150

150

HX/CVCD(J/Q)1-8Fr-200

200

HX/CVCD(J/Q)1-8Fr-300

300

HX/CVCD(J/Q)1-6Fr-130

CVCD(J、Q)

1

6 Fr

2.15

150

HX/CVCD(J/Q)1-6Fr-200

200

HX/CVCD(J/Q)1-6Fr-300

300

HX/CVCD(J/Q)1-6Fr-600

600

HX/CVCD(J/Q)1-5Fr-150

CVCD(J、Q)

1

5 Fr

1.70

150

HX/CVCD(J/Q)1-5Fr-200

200

HX/CVCD(J/Q)1-5Fr-300

300

HX/CVCD(J/Q)1-5Fr-350

350

HX/CVCD(J/Q)1-5Fr-450

450

HX/CVCD(J/Q)1-5Fr-600

600

HX/CVCD(J/Q)1-4Fr-150

CVCD(J、Q)

1

4 Fr

1.40

150

HX/CVCD(J/Q)1-4Fr-200

200

HX/CVCD(J/Q)1-4Fr-300

300

HX/CVCD(J/Q)1-4Fr-600

600

HX/CVCD(J/Q)1-3Fr-80

CVCD(J、Q)

1

3 Fr

1.10

80

HX/CVCD(J/Q)1-3Fr-130

130

HX/CVCD(J/Q)1-3Fr-200

200

HX/CVCD(J/Q)1-3Fr-400

400

HX/CVCD(J/Q)1-3Fr-600

600

HX/CVCD(J/Q)2-4Fr-80

CVCD(J、Q)

2

4 Fr

1.40

80

HX/CVCD(J/Q)2-4Fr-130

130

HX/CVCD(J/Q)2-4Fr-150

150

HX/CVCD(J/Q)2-5Fr-80

CVCD(J、Q)

2

5 Fr

1.70

80

HX/CVCD(J/Q)2-5Fr-130

130

HX/CVCD(J/Q)2-5Fr-150

150

HX/CVCD(J/Q)2-5Fr-200

200

HX/CVCD(J/Q)2-7Fr-150

CVCD(J、Q)

2

7 Fr

2.40

150

HX/CVCD(J/Q)2-7Fr-200

200

HX/CVCD(J/Q)2-7Fr-300

300

HX/CVCD(J/Q)2-8Fr-150

CVCD(J、Q)

2

8 Fr

2.70

150

HX/CVCD(J/Q)2-8Fr-200

200

HX/CVCD(J/Q)2-8Fr-300

300

HX/CVCD(J/Q)2-11.5Fr-130

CVCD(J、Q)

2

11.5 Fr

3.85

130

HX/CVCD(J/Q)2-11.5Fr-150

150

HX/CVCD(J/Q)2-11.5Fr-200

200

HX/CVCD(J/Q)2-11.5Fr-300

300

HX/CVCD(J/Q)2-12Fr-130

CVCD(J、Q)

2

12 Fr

4.00

130

HX/CVCD(J/Q)2-12Fr-150

150

HX/CVCD(J/Q)2-12Fr-200

200

HX/CVCD(J/Q)2-12Fr-300

300

HX/CVCD(J/Q)3-5.5Fr-80

CVCD(J、Q)

3

5.5Fr

1.90

80

HX/CVCD(J/Q)3-5.5Fr-130

130

HX/CVCD(J/Q)3-5.5Fr-150

150

HX/CVCD(J/Q)3-7Fr-150

CVCD(J、Q)

3

7Fr

2.40

150

HX/CVCD(J/Q)3-7Fr-200

200

HX/CVCD(J/Q)3-7Fr-300

300

HX/CVCD(J/Q)3-8.5Fr-150

CVCD(J、Q)

3

8.5Fr

2.85

150

HX/CVCD(J/Q)3-8.5Fr-200

200

HX/CVCD(J/Q)3-8.5Fr-300

300

HX/CVCD(J/Q)3-11.5Fr-130

CVCD(J、Q)

3

11.5Fr

3.85

130

HX/CVCD(J/Q)3-11.5Fr-150

150

HX/CVCD(J/Q)3-11.5Fr-200

200

HX/CVCD(J/Q)3-11.5Fr-300

300

HX/CVCD(J/Q)3-12Fr-130

CVCD(J、Q)

3

12Fr

4.00

130

HX/CVCD(J/Q)3-12Fr-150

150

HX/CVCD(J/Q)3-12Fr-200

200

HX/CVCD(J/Q)3-12Fr-300

300